Sexual Health Toolkit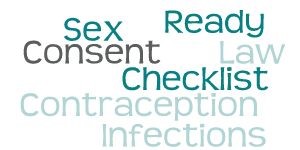 South Tyneside Sexual Health
The law and & consent
Are you ready for sex?
Are you ready for sex checklist
Safe sex and contraception
Sexually transmitted infections (STIs)
Teenage pregnancy
Sexual Health Services for people living in South Tyneside provides contraception and sexual health screening/testing, treatment and follow up. All forms of contraception, including long acting methods are available from the majority of clinics, with some clinics specifically for under 25's.
School Nursing Service at South Tyneside
Contraceptive
Sexual Health Services
Teenage Pregnancy
The school nursing service have a confidential text messaging service " Chathealth" available for young people form the age of 11 - 19 years . We provide information , advice and support for children and young people.
Bright Futures
Contraceptive
Sexual Health Services
Teenage Pregnancy
Bright Futures works with young women and girls across South Tyneside delivering a range of educational, supportive and fun activities covering a range of problems and issues.
Tyneside Outdoors
Contraceptive
Sexual Health Services
Teenage Pregnancy
Tyneside Outdoors helps young people enjoy the outdoors by providing a range of fun, active and challenging activities in local parks and open spaces. It's a youth club but outdoors!
The Foundation of Light
Contraceptive
Sexual Health Services
Teenage Pregnancy
The Foundation of Light is the registered charity of Sunderland Football Club and we use the power of football and sport to provide opportunities to young people, adults and families across Sunderland, South Tyneside and County Durham.
We have 4 curriculum areas which are shown below, all of which are open to people from all backgrounds, abilities and genders.
Football and Sport
Education
Skills and Employability
Health and Wellbeing
Our vision is to use the curriculum areas and the programmes within them to create better opportunities and better lives for our communities.
Beacon of Light, Stadium Park, Sunderland, SR5 1SN
MATRIX
The Matrix works with young people under the age of 18, their families and carers in South Tyneside whose lives have been affected by drugs and alcohol and those who are at risk of developing drug or alcohol problems.
7 Burrow Street
South Shields
Tyne and Wear
NE33 1PP
Other support and services in your area